4 5/8"(117.5mm) API Roller Bits IADC637G For Hard Formation
4 5/8 inches IADC TCI Tricone Bit
ce_detail
important
100
height
width
reset_style
font-size
div
display

4 5/8"(117.5mm) API Roller Bits IADC637G For Hard Formation
斯利德

Tricone Bits - 4 5/8''

SOLIDKEY
| | |
| --- | --- |
| Cone Size | 4 5/8" |
| Bearing Type | Elastomer Sealed Bearing |
| Tooth Type | TCI |
| Circulation Type | Mud Fluid |
| Thread Connection | 2 7/8 Reg Pin |
| Gauge Protection | Available |
| Shirttail Protection | Available |
RPM (r/min)

80~40

WOB(KN)

58~141

Application
Medium formations,such as medium shale,
limestone, medium sandstone,medium
formation with harder and abrasive interbeds,
etc.
4 5/8" TCI tricone bit is widely used in water well drilling, exploration, HDD pilot hole, foundation piling, it has a central jet hole design, so it is also workable for reverse circulation drilling.
The bearing is sealed, the working life is much longer than open bearing roller bits. Conical shape tungsten carbide insert has higher penetrating rate than spherical shape inserts in drilling hard rocks.
Solidkey is an API certified factory of tricone roller bit, please contact with us for more information.
Oil/Gas Well Drilling
.
Water Well Drilling
.
HDD(Trenchless)
.
Foundation Piling
To extract sources of energy underground.

To extract the water underground.

To install pipelines underground with No-Dig.

To pile foundation for constructions.

We are one of the people who makes above easier.

Let's work together and enjoy this job.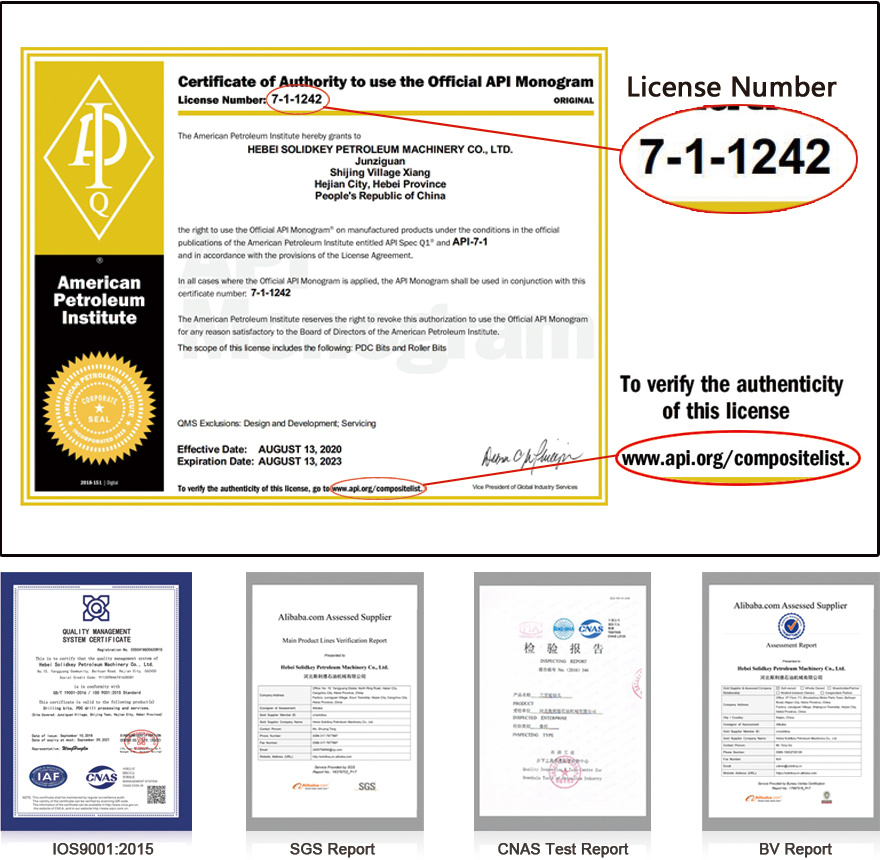 A face-to-face meeting is welcomed in below exhibitions, including OTC , Bauma Germany/ China, No-Dig Shows, etc.

Inquiry Now
Complete the form to get more information soon

Welcome to know our products
Get more product service information
CNTACT US
No.319-324, F1, Shoulashou Int'l. Autoparts Center,Shijing Road,Hejian City, Hebei Province, China